Continuous technological development and more and more effective photovoltaic cells give hope that in the near future, photovoltaics will slowly replace conventional power plants. The energy sector based on coal combustion is already in a strong retreat, as evi- denced by the plans of some European countries to switch to 100% renewable energy by 2050. So the future of photovoltaics in this respect is very optimistic about countries that are already assuming what will happen in the distant future.
Experts from the International Energy Agency say directly that photovoltaics is already the cheapest source of electricity in history and describe the future of photovoltaics in very bright colors. Representatives of the International Energy Agency estimate that in the years 2020-2030 around the world the increase in installed photovoltaic capacity will amount to an average of 13% per year. It only remains to wait and hope that the dynamic development of photovoltaics in the world and in Poland will translate into an improvement in the condition of the natural environ- ment into significant savings in Poles' home budgets.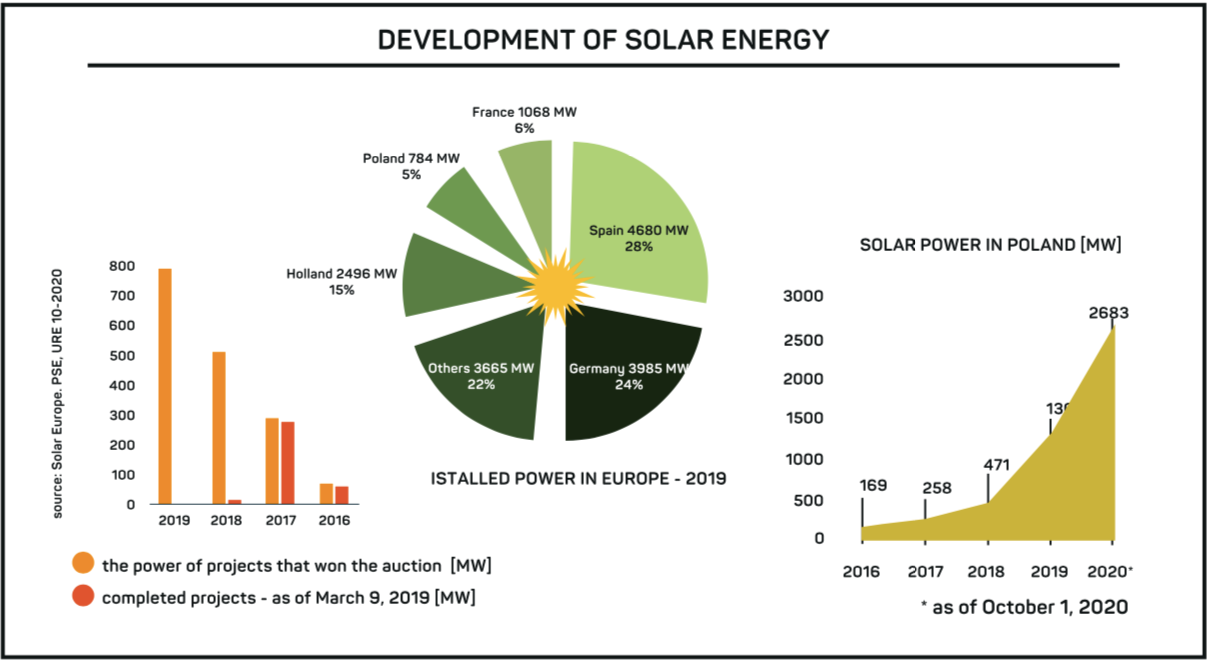 LAST YEAR, POLAND WAS THE FIFTH PLACE IN THE EUROPEAN UNION IN TERMS OF INVESTMENT IN FOTOWOLTAICA, THIS YEAR WE SHOULD RECORD AN EVEN BETTER RESULT. THIS IS RESULTING FROM NEW FORECASTS JUST PUBLISHED BY THE INTERNATIONAL ENERGY AGANCE.
Investments in photovoltaics in Poland have significantly accelerated since last year. Photovoltaic installations, along with a decrease in their costs and a simultaneous increase in energy costs for end users, are becoming a better and better alternative in terms of reducing energy costs in homes and businesses.
In the segment of smaller, roof installations, co-financing programs from EU and national funds also contribute to new investments. Last year, the EU subsidies, which previously fueled the domestic photovoltaic market, were joined by financing under the government program "My Electricity", which can be used to obtain subsidies for household installations with a capacity of 2 kW to 10 kW. Prosumers can also take advantage of the tax relief, which further reduces the costs of investing in PV. In addition, there is an increasing offer of the banking sector, which in response to the growing interest in photovoltaics began to offer favorable conditions for financing PV investments in Polish homes and companies.
In turn, investments in the segment of larger PV power plants are driven by an auction system, in which investors can count on 15-year guarantees of energy sales, and the first large PV projects appear on the horizon, for which the business model is based on long-term contracts concluded with commercial customers. These factors mean that, while until 2019, not much was said about Poland in the context of investments in photovoltaics, we have now been promoted to the European leaders in terms of PV investments.